EvolVision has introduced the first true "screen innovation" since light was first projecten on flat screens, unleashing a host of next generation, multidimensional, attention grabbing products. Innovative products from Evolvision such as the pyramid installation, the dome, the fantasy screen and the pole are being adopted by internally-renowned corporations throught the world in their advertising campagns, presentations, events and point of purchase installations.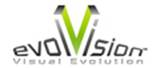 Download the letter of recommendation from Dorian Natan, CEO
ThinkThrough continues to work with EvolVision and Dorian Natan to find new ways to make this product successful.